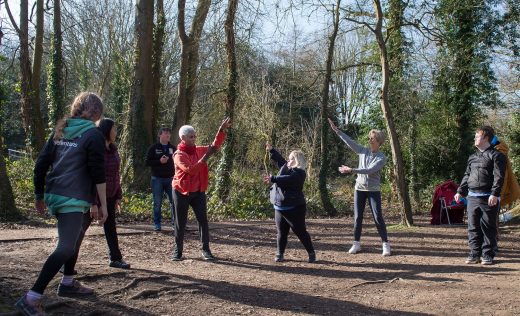 On a week that highlights the key issues relating to our mental health, with a focus this year on the impact 'nature' has on our physical and mental wellbeing, we take a look back at the positive influence our Improvising Generations project has had on local communities.
The project, in partnership with dance artist Laura Chiabolotti and Hertfordshire Music Service, which aims to bring young people and adults together to help overcome loneliness and social isolation, has received resoundingly positive feedback from more than 200 participants that took part.
Our recent evaluation report for the project highlighted that:
Improvising Generations reduced feelings of loneliness through short-and longer-term participation.
Despite the challenges of a global pandemic, the project helped to ensure that the frequency with which loneliness was experienced did not increase.
Participants felt a sense of belonging, aiding their motivation and commitment to continue to attend because of their perceived responsibilities to others.
Overall, the project brought "more colour" to people's lives and as a result, participants and artists alike expressed gratitude in having such an opportunity to make art and be together.
One participant told us: "Improvising Generations is exciting, innovative and inclusive. Anything goes, there are no rules, I've discovered something inside myself that I didn't know existed."
Funded by the Building Connections Fund, with thanks to both Her Majesty's Government and National Lottery players (The National Lottery Community Fund), the Improvising Generations Project is due to finish in June 2021.
Carrie Washington, Director of BEEE Creative explains: "We are so pleased with the many positive outcomes that we have been able to achieve throughout the Improvising Generations project, particularly given the challenges we have faced during 2020 and at the start of 2021.
"We're now seeking further funding streams to enable us to continue to work with our partners, dance artists and participants to build on the fantastic health and wellbeing benefits that have been achieved so far through this project."
Hear from participants what our Improvising Generations Project means to them in this short video – https://vimeo.com/533583738.