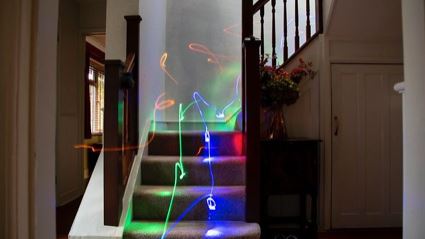 To celebrate the 75th anniversary of Stevenage being designated as a new town, we're inviting adults, families and young people to join our 'Dancing with Light' project, part of A-MUSE (Arts in Museums), a programme of fun, creative dance workshops.
Kicking off with a 'Meet the artists' event on 15 May, those interested in taking part can find out more about what's involved and what they can expect from the project.
Dancing with Light is a series of dance and photography workshops (including an online event on 24 May and workshops on 3 and 4 June) that play with capturing movement as a light image on camera. Workshops will combine movement and storytelling, whilst using light in a creative way.
The final photographs will be exhibited at Stevenage Museum when it reopens, as well as forming part of a wider A-MUSE programme virtual gallery exhibition.
Photographic Artist, Sam Ivin explains: "This project with BEEE Creative is about exploring the relationship between movement and photography. We're going to do that by capturing your dance movements with a technique called light painting.
"Light painting is a way of creating beautiful patterns and drawings, using torches, glowsticks and long exposure photography. I'm looking forward to joining Dance Artist, Hannah Delaney and all of you, on this exciting project."
Admission is FREE, but advanced booking is essential. Email hannah@beee-creative.co.uk for more information and to take part.
Thanks to our partner, Stevenage Museusm and funding from Arts Council England for making this project possible.