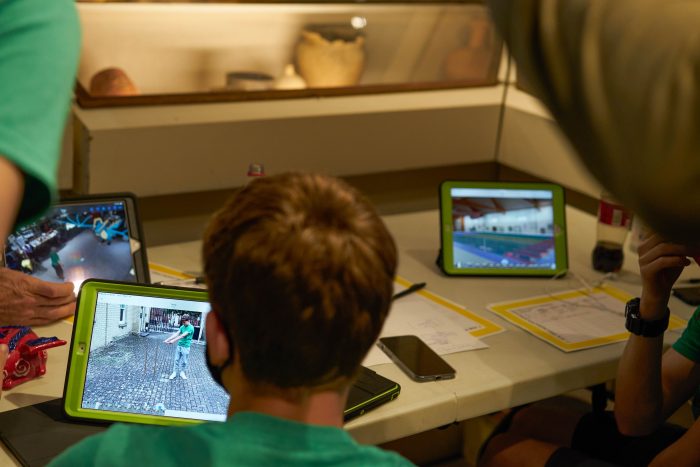 Community dance specialists, BEEE Creative, in collaboration with MakeAmplify and five Hertfordshire museums, have completed an exciting project, which introduced young people to new cultural opportunities, helped them learn new skills and supported increased participation and engagement with local museums.
The Exhibit 2020 project enabled young people from Royston, St Albans, Stevenage, North Hertfordshire and Watford to take part in five days of workshops at their local museums, working with four professional artists from MakeAmplify to create an Augmented Reality (AR) exhibition, to be shared with their local communities.
The focus of the Exhibit 2020 workshops was to explore 'what it's like growing up between 2000 and 2020', with young people taking part in movement, sound, film and technology workshops in order to tap into their past experiences. Participants learnt new skills in digital design and technology to develop these memories, ideas and emotions into AR intallations that could be enjoyed by visitors at each of our five partner museums.
Reflecting on the huge success of the recent Exhibit 2020 project, Carrie Washington, Director of BEEE Creative says: "I would like to say a huge thank you to the MakeAmplify team, including Jennifer Irons, Zach Walker, Christopher Hunt and Stewart Baxter for their energy, commitment and enthusiasm to not only run these five residencies but to also install five AR exhibitions in five different museums.
"Our intern Anna Quiney single-handedly kept us all organised throughout the project and has been an inspiration to young people across Hertfordshire, who have learnt new skills and developed their understanding of art, culture and local heritage."
Commenting on the project on Twitter, Royston Museum said: "It's been fab having you all here getting creative in the museum! Thank you for coming and for helping us see the museum through new eyes."
Following the success of the Museum residencies, we're now taking the dance and AR workshops into local schools and will be visiting four Hertfordshire schools over the next few weeks. We're also keen to hear from any other schools that may be interested in developing the Exhibit 2020 project within their settings. Please email carrie@beee-creative.co.uk for more information and to get involved.
This project is managed by BEEE Creative CIO, delivered in partnership with MakeAmplify and Stevenage, St Albans, Royston, Watford and North Herfordshire Museums and supported by funding from The National Lottery Heritage Fund.