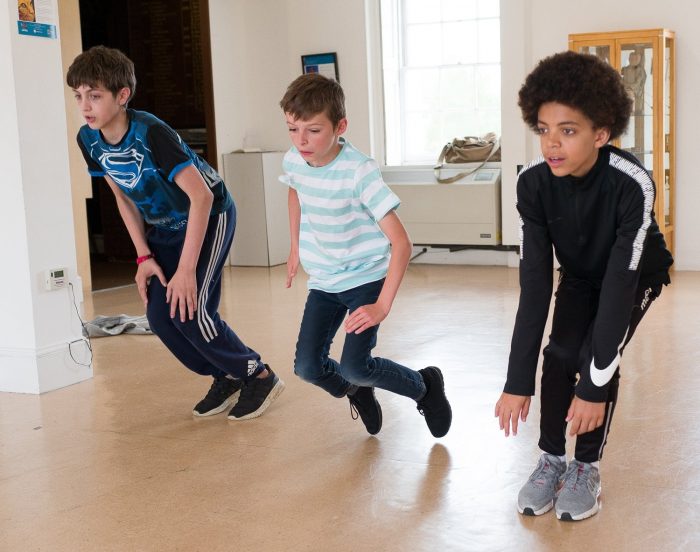 Community dance organisation, BEEE Creative, in partnership with MakeAmplify and Stevenage Museum, is offering a FREE dance programme this Half Term, with an emphasis on tangible skills development and fostering a positive sense of wellbeing.
Exhibit 2020, a project that challenges the inequality of access to cultural activity in Hertfordshire and supports vulnerable young people to overcome barriers to participation, aims to inspire them to engage with their local museum, uncovering new stories and bringing collections alive.
Young people (aged 11-14) are invited to take part in a FREE 5-day mixed arts project, working with four professional artists from MakeAmplify, who use dance and technology in commercials, music videos, installations and live performances.
Throughout the week you will talk about your childhood – what it's like growing up between 2000 and 2020; take part in movement, sound, film and tech workshops and make an Augmented Reality (AR) installation for Stevenage Museum, which the general public will later be able to come and use.
Carrie Washington, Director of BEEE Creative explains: For any young person, trying something new can be daunting, especially if they lack self-worth and confidence. Committing to a long-term weekly programme in such cases can be too big a step. Fortunately, recent research has found that even the smallest engagement in creative activities can improve wellbeing.
"Our half term project provides an opportunity for young people to get some respite from their daily environment and fully immerse themselves in a number of creative activities."
If you know a young peron who would love the opportunity to take part in this project and connect with an organisation that has worked with Olly Murs, Rizzle Kicks, Akram Khan and many more, then this could be the perfect opportunity. Visit http://beee-creative.co.uk/wp/exhibit2020-stevenagemuseum/ or email carrie@beee-creative.co.uk for more information and to book.
This project is managed by BEEE Creative CIO, delivered in partnership with MakeAmplify and Stevenage Museum and supported by funding from The National Lottery Heritage Fund.