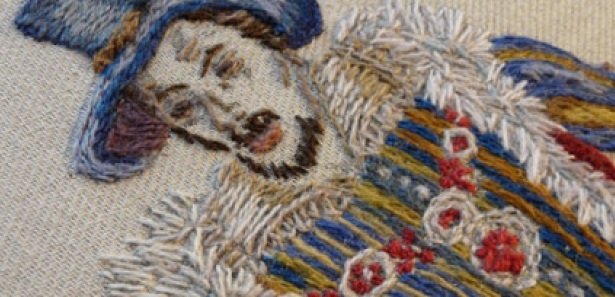 BEEE Creative, a charitable organisation that specialises in connecting local people to dance opportunities, is working in partnership with Royston Museum and a number of professional artists, to encourage family groups and individuals to become part of the Royston Tapestry.
Taking part in a series of dance, storytelling and animation workshops, local people of all ages will create a film that interprets the stories woven into the tapestry.
With six sessions to chose from, participants can take part in as many of the workshops as they would like and there are a number of family activities that can be completed independently at home, which will feed into this exciting and educational project.
Sea creatures, Romans, kings and Royston Cave – find out more about your local heritage and play an important role in retelling these fascinating tales.
Filming will be completed by participants at home, with the final film being submitted to international animation festivals, as well as contributing to research and development to tour a workshop package to communities in the future.
Meet the Artists:
Shaun Clark is the Animation Director of Flicker Mill, an animation studio creating bespoke work across all media platforms, including feature length films, short films, broadcast content, commercials, exhibition and projection mapping. At Flicker Mill they are practicing filmmakers whose work has been BAFTA nominated and won several accolades. Find out more about Shaun at https://flickermill.com/
Chris Lince is a director, designer, writer and film maker and will be working with Shaun to write the script for the final film. Find out more about Chris at https://www.chrislince.com/
Nick Cooke is a multi-award-winning cinematographer who has a passion for people and their unique voices. Nick will join Shaun and Chris to create this interesting and iconic film. Find out more about Nick at https://www.nickcooke.info/
Join us for the 'In the Beginning' workshop on Friday (26 February) to meet Shaun and other members of the team and hear more about the new animated film we are creating, based on the Royston Tapestry.
Find out more: A-MUSE: In the beginning, Royston Museum – BEEE Creative CIO (beee-creative.co.uk)
Booking: https://forms.gle/FEebJRZNQHg97gRp7
This project is part of a wider, cross-district project in Hertfordshire Museums, A-MUSE, engaging people with their local museum through creative dance and storytelling workshops. The project is managed by BEEE Creative CIO, delivered in partnership with professional artists Carrie Washington (dance), Shaun Clark (animator), Chris Lince (scriptwriter), Nick Cooke (cinematographer) and Royston Museum and supported by Arts Council England.