ARCHIVE: Museums in Motion Luton (2021)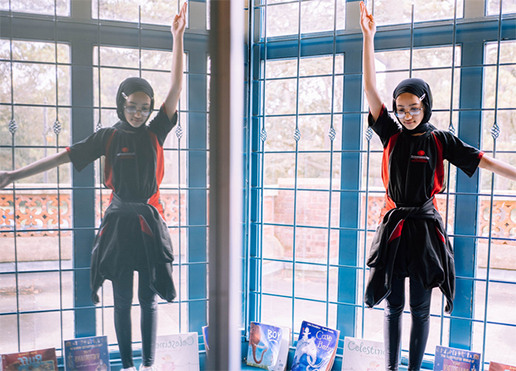 Museums in Motion Luton was a dance, music, film and projection participation project working with 11 – 16 year olds from Chalk Hills Academy, Luton. The project co-produced an arts installation at Wardown House, Museum and Gallery. Developed and delivered by BEEE Creative CIO, it was led by the artistic direction of MakeAmplify and delivered in partnership with The Culture Trust Luton (formerly Luton Culture). The project was underpinned by research that demonstrates the positive impact arts engagement has on health and well-being factors; physical, social, intellectual and emotional wellness.
The project aimed to support development of Arts and Heritage provision in Luton, building new partnerships with BEEE Creative CIO, MakeAmplify, the Culture Trust Luton and local schools that lay the foundations for on-going work beyond the project. It aimed to work with new audiences - young people from Luton identified 'at risk' (including but not exclusively those living in poverty, disengaged from education, young carers). It was anticipated the participants would be able to express their views on local arts and heritage provision that could in turn be used to shape future programming; ensuring young people have an ownership of the project and develop a sense of belonging.
"My whole brain is up! I was so excited. I accidentally kept waking up because I was so excited."
The aim of Museums in Motion Luton was to challenge and address inequality of access to cultural activity and progression routes for young people in Luton.
The project outcomes were focused on impact on:
Participants – increasing wellbeing, developing skills, ongoing engagement in Luton's heritage and cultural offer
Partners – developed partnerships enabling future support of young people's ongoing cultural engagement and development of the cultural talent pipeline in Luton
Despite postponement of the project of nearly a year due to Covid-19 restrictions, it achieved its desired outcomes
A new partnership between BEEE Creative CIO, Culture Trust Luton and MakeAmplify has been established, sharing priorities for children and young people
Impact on wellbeing, for a short intervention, is high
Participants developed and gained new skills that they will be able to utilise and continue to develop beyond the life of the project
Working partnership with a school was a significant contributor to the project's success, particularly in referring the participants and providing additional pastoral support
A full evaluation report is available for this project >>
Partners:
The Culture Trust Luton
MakeAmplify
Artists:
MakeAmplify - Stewart Baxter, Jennifer Irons, Zach Walker
Funder: The Steel Charitable Trust