ARCHIVE: Creative Connections
(February 2020-February 2021)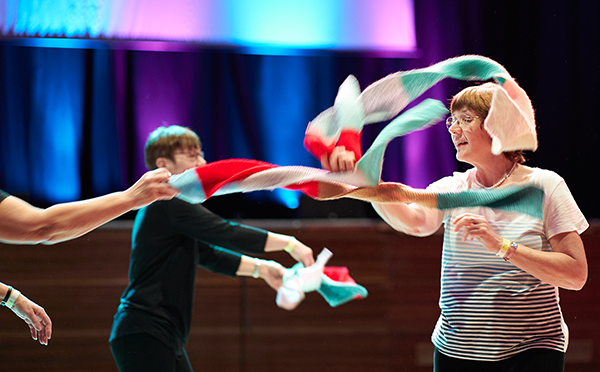 Driven by the belief in the positive impact dance engagement has on people's lives, specifically on health and well-being, Creative Connections was designed to be a programme of 72 fun dance workshops and social time, bringing 50 adults with long-term or life-limiting illnesses and their carers together in community spaces in Ampthill and Leighton Buzzard (and surrounding areas) from February 2020 to February 2021. It was funded by The National Lottery Awards for All funding programme. Creative Connections builds on BEEE Creative's previous projects developed in partnership with Parkinson's UK, where they offered specific Dance for Parkinsons' classes.
Covid-19
The sessions began as planned but as the country was placed in national lockdown in March 2020 in response to the Covid-19 pandemic, the sessions were paused, while a digital alternative could be found. Experimentation with different platforms and ways of engaging took place. Sessions resumed in summer 2020 but were required to return to online, using zoom, in November 2020.
Creative Connections aimed to promote community and personal wellbeing, using dance as a tool to connect adults with long-term or life-limiting illnesses in new ways. It had four key outcomes associated with this aim:
Barriers for vulnerable people taking part in dance and physical/cultural activity will be challenged
Participants report an increase in positive attitudes to engaging in physical activity
Participants report an increase in positive attitudes to learning new skills
Participants report an increase feeling of being socially connected
The project had to make significant adaptations to its delivery due to ongoing and changing restrictions in response to the Covid-19 pandemic
Efforts were made to ensure participants were able to remain connected, despite the pause in delivery which enabled participants to return when sessions resumed
The delivery of sessions via online platforms highlighted that are a range of barriers to digital access beyond digital poverty which include lack of access to technology, lack of confidence and skills in using technology, as well as the barriers to access that are specific to participants' health conditions
Despite these challenges the project has been able to achieve its intended outcomes for those who were able to continue to take part
The activity was perceived by participants as a valuable part of their week. They recognised the value it brought to them physically and socially.
The project has enabled continued social connection and at the least maintained positive attitudes to physical activity, dance, and creativity.
The project has also demonstrated that it has had a positive impact on participants' mental wellbeing, particularly in light of Covid-19 and the national lockdowns.
A full evaluation report is available for this project >>
Artists
Kezia Jolly, Vacani Ballet
Partners:
Parkinson's UK
Previous Funders:
The National Lottery Community Fund
Photography:
Warren Cooper Photography